WIN A FREE TRIP TO INDIA
Participate in the Second Round of Bharat ko Janiye Quiz
Dear Friends,
Greetings. Hope you are well. 
The Ministry of External Affairs is organizing the second edition of Bharat Ko Janiye (Know India) quiz, open to young overseas Indian youth (i.e. PIO and NRIs) between the ages of 18-35 years. The quiz participation is also open to Foreign Nationals.
Register today for the Bharat ko Janiye Quiz and win a trip to INDIA!
Quiz Topics include: 
Indian Art, Indian Democracy, Economy, Geography, Personalities in Music and Dance, Science & Technology, Languages & Literature, Education, Tradition of Indian Crafts, Indian Cinema, and Renowned Personalities.
Quiz Highlights:
– No Entry Fee
– Fully Sponsored 15 Day Tour to India* – Visits to Historic, Cultural and Industrial Sites
– Participation Medal, Certificates at the Pravasi Bhartiya Divas 2019, Varanasi, India
– Open for Foreign Nationals and Overseas Indian Youth (NRIs, OCI and PIO Holders) between the age of 15-35 as on 1st January 2019
For Details visit: https://www.bharatkojaniye.in/
To register Click here
So HURRY UP AND REGISTER NOW! Grab your CHANCE to win a FREE TRIP TO INDIA!
*Top 10 candidates from each category of NRI and PIO from 2nd round of the Quiz will be invited for a 15-day Bharat Ko Janiye Yatra (Tour) and to participate in the third round. Government of India will bear international airfare and all expenses including board and lodging.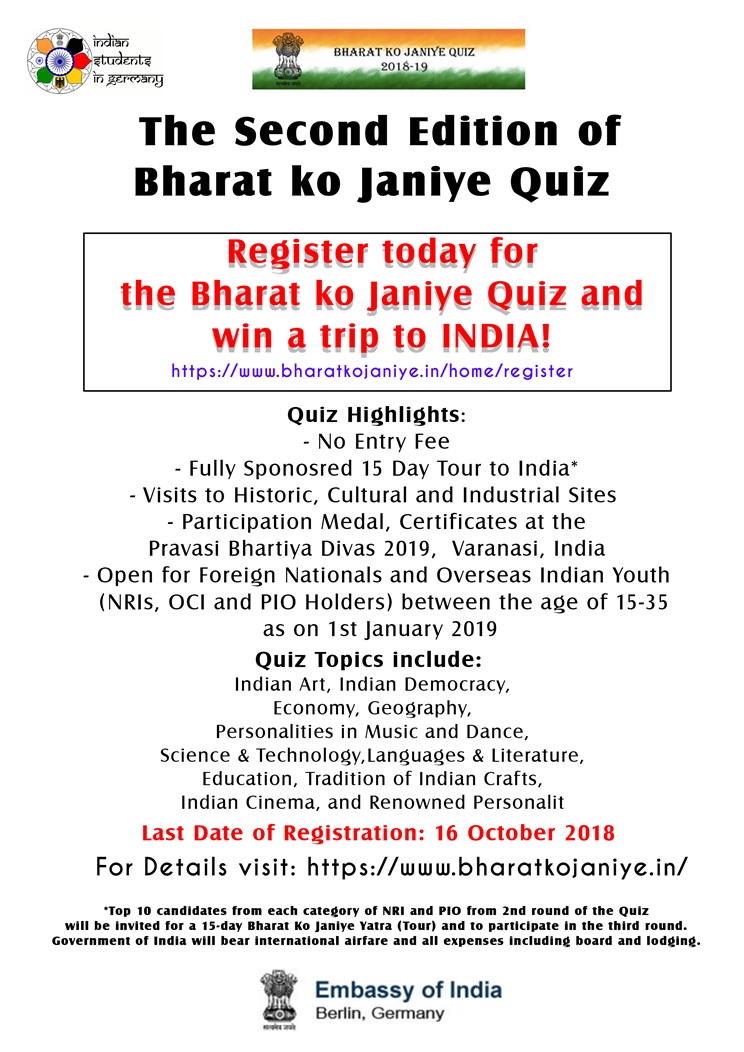 We look forward to seeing you all as participants of the quiz.
Wishing you a nice evening.