North East Indian Evening
8th June 2018
Manipuri Dance Workshop – International School Hannover 
Cultural Evening & Manipuri Dance Show – Volkshochschule Hannover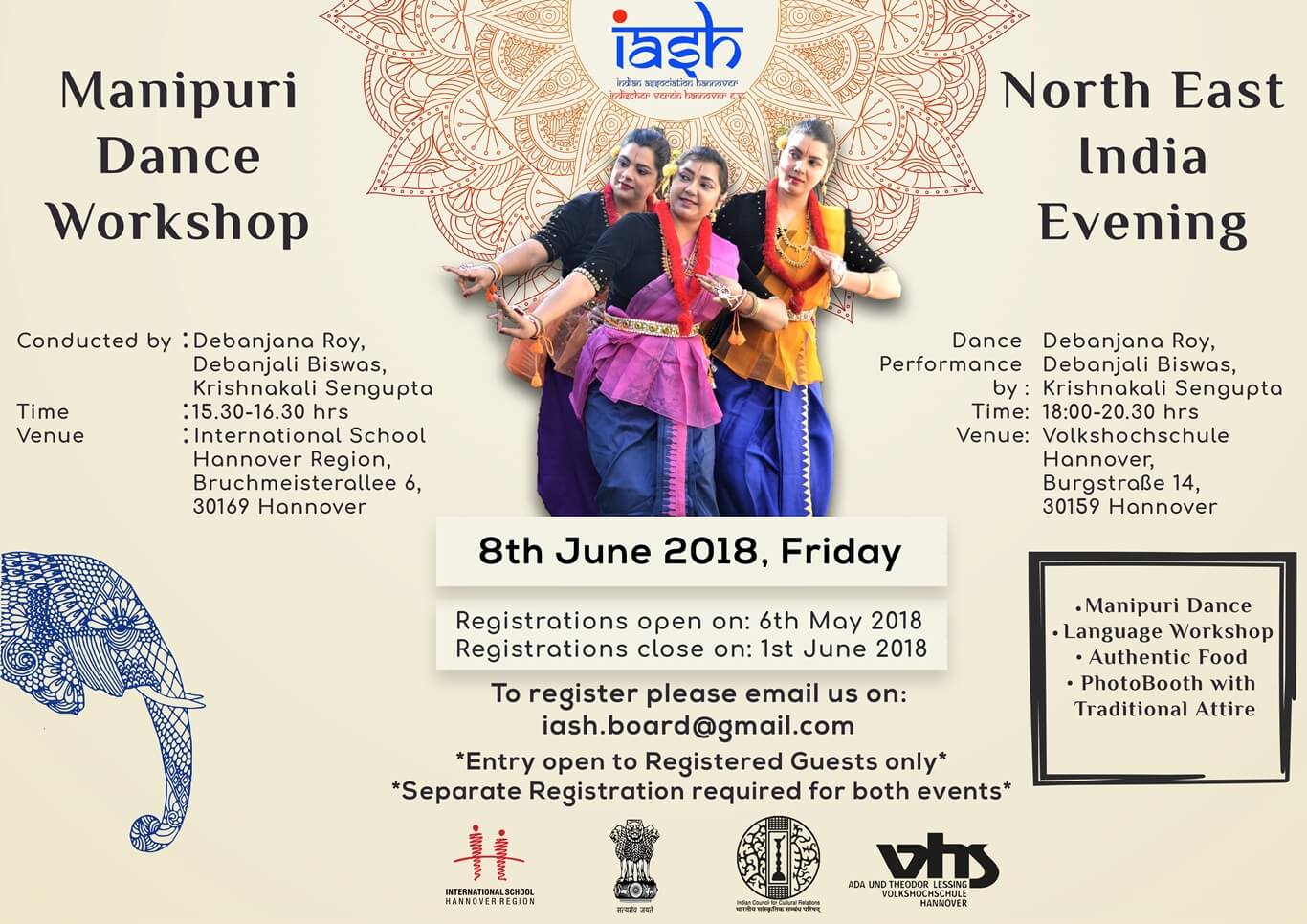 Event
Manipuri Dance Workshop
Venue
International School Hannover
Event
Cultural Evening & Manipuri Dance Show
Venue
Volkshochschule Hannover 
VENUE:
International School Hannover
Volkshochschule Hannover
<iframe src="https://www.google.com/maps/embed?pb=!1m18!1m12!1m3!1d2435.8728466763887!2d9.729362815801993!3d52.37272557978668!2m3!1f0!2f0!3f0!3m2!1i1024!2i768!4f13.1!3m3!1m2!1s0x47b074b7010c0797%3A0x63a16714f68c6e4!2sAda+and+Theodor+Lessing+Volkshochschule+Hannover!5e0!3m2!1sen!2sin!4v1526986632947" width="600" height="400" frameborder="0" style="border:0" allowfullscreen></iframe>
Festival Includes
The Mithradeya group from Kolkatta, India is an alliance of creativity between three artists.
It is a dance collaboration born from a shared passion to engage in all genres of Manipuri dance with various narrative and storytelling traditions of India. Artists of Mithradeya group will conduct a
Manipuri Dance Workshop in the International School Hannover on 8th June at 15.30 hours.
Followed by the workshop there will be a
cultural evening at the Volkshochschule Hannover from 18.00-20.30 hrs which will consist of a Manipuri Dance Show
along with possibilities to explore North East Indian language, Authentic Food and Traditional Clothing of the region.
So do join us, to explore the North East Indian Region and to enjoy the cultural evening. 
Please note that entry is open to Registered Guests ONLY.
Please note that separate registration is required for both the events. 
Registrations Open on: 6th May 2018
Registrations Close on: 1st June 2018 
To register, please reply to this email
iash.board@gmail.com
We look forward to seeing you.
"North East India- The Perfect Blend of Eight Wonders. Captivating Natural Beauty combined with a rich cultural heritage- What a Happy Marriage!"
Wish you a nice evening.