Navratri 2018
20th Oct 2018
@Hannover
by
IASH
Dear Friends,
Greetings. Hope you are well.
IASH would heartily like to invite one and all of you to the celebration of Navratri 2018.
Navratri is a festival of worship and dance. The word Navratri literally means nine nights in Sanskrit.
During these nine nights, nine forms of Shakti/Devi i.e. female divinity are worshipped.
Time
18.00 hrs- 22.00 hrs
Venue
Haus der Religion, Böhmerstr. 8, 30173 Hannover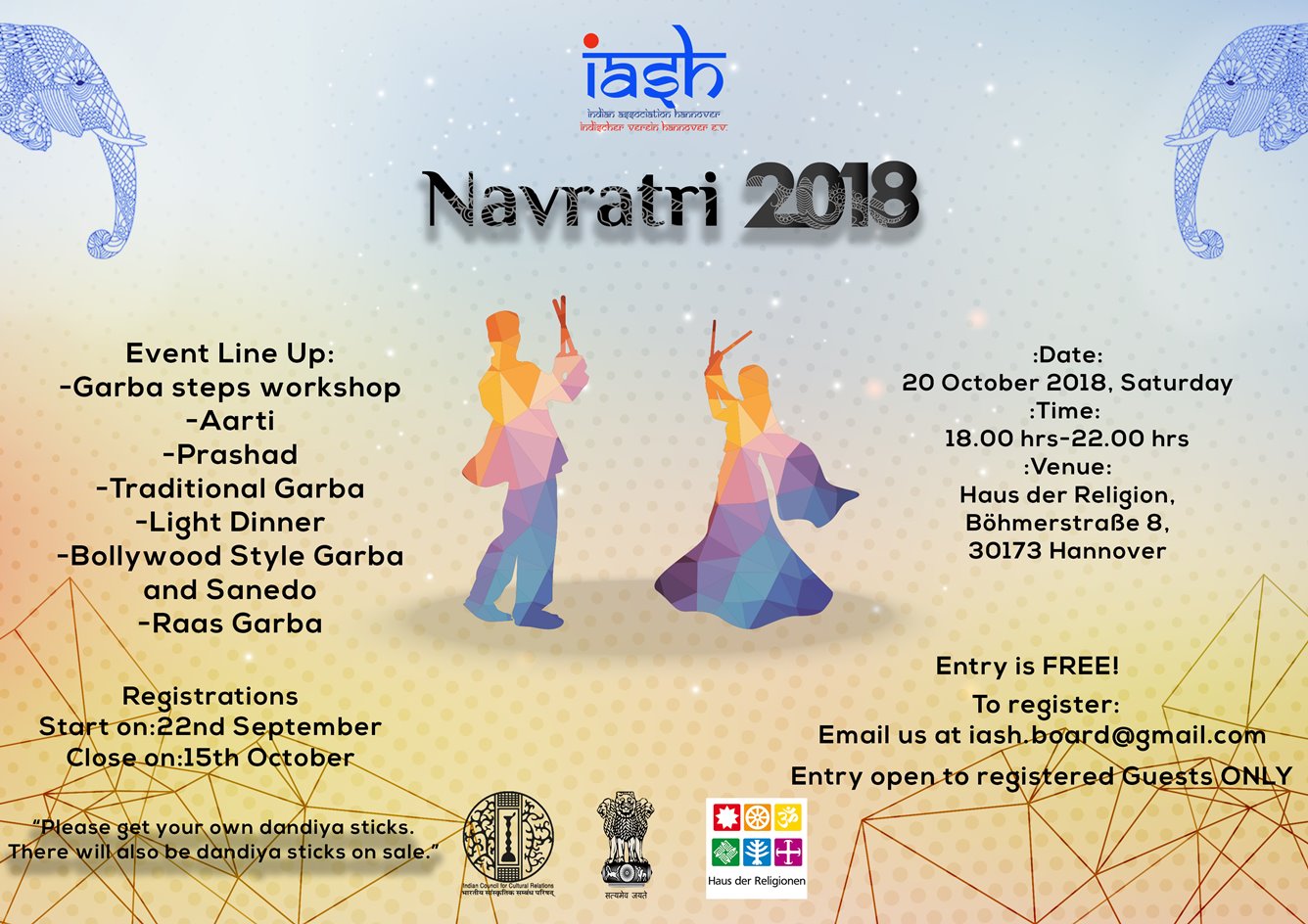 Program Line Up
– Garba Steps Workshop
– Aarti
– Prashad
– Traditional Garba
– Light Dinner
– Bollywood Style Garba and Sanedo
– Raas Garba
Entry is FREE!
To register, email us at iash.board@gmail.com
Registrations start on: 22nd September and close on: 15th October
VENUE:
Haus der Religion, Böhmerstr. 8, 30173 Hannover
<iframe src="https://www.google.com/maps/embed?pb=!1m18!1m12!1m3!1d2436.6916116962752!2d9.751522315801438!3d52.35787827978388!2m3!1f0!2f0!3f0!3m2!1i1024!2i768!4f13.1!3m3!1m2!1s0x47b00b31431bfe05%3A0x545f12f31def1ca2!2sHouse+of+Religions!5e0!3m2!1sen!2sin!4v1537887459914" width="1024" height="400" frameborder="0" style="border:0" allowfullscreen></iframe>
Note:
* Limited Entry Only
* Entry Open to Registered Participants only
* Please get your own dandiya sticks. There will also be dandiya sticks on SALE!
We look forward to seeing you all there!!!