INVITATION
Diwali, a time when we come together to celebrate the good conquering evil and the light conquering the dark.
IASH would like to celebrate this special occasion with one and all of you.
We heartily invite you to Diwali Celebrations 2018 on 11th November 2018, Sunday from 17.00 to 21.00 hrs.
Time
17:00-21:00 hrs
(Entry opens at 16.30 hrs)
Venue
Haus der Religion, Böhmerstr. 8, 30173 Hannover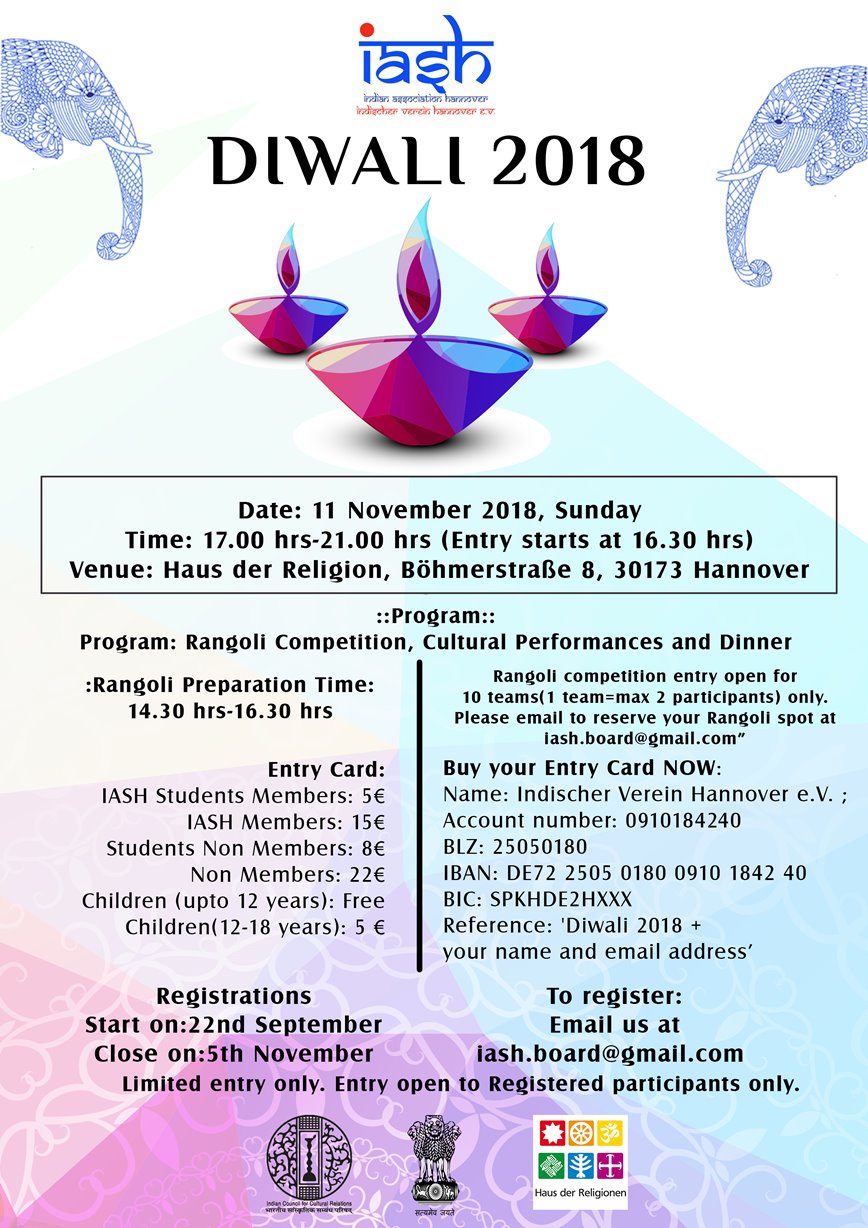 Program Line Up
Rangoli Competition
Cultural Performances
and
Dinner
Rangoli Competition Details: 
Preparation Time: 14.30 hrs- 16.30 hrs
Rangoli Competition Entry Open for 10 teams (1 team= max 2 participants) ONLY. 
Separate Registration Needed for Rangoli Competition
To register send us an email at 
ENTRY CARD
IASH Student Members: 5 €
IASH Members: 15€
Student Non Members: 8 €
Non Members: 22 €
Children (Up to 12 years): FREE
Children (12-18 years): 5 €
Buy your ENTRY Card NOW
Name: Indischer Verein Hannover e.V. ;
Account number: 0910184240 
BLZ: 25050180
IBAN: DE72 2505 0180 0910 1842 40 
BIC: SPKHDE2HXXX
Reference: 'Diwali 2018 + your name and email address'
To register:
1. Transfer the money to the above mentioned account
2. Send us an email so that we can send you your ticket.
Registrations Start on: 22nd September 2018 and Close on: 5th November 2018
Haus der Religion, Böhmerstr. 8, 30173 Hannover
Note: 
1. Identity Card will be needed at the time of entry. 
3. Entry Open to Registered Participants ONLY.
We look forward to seeing you all there!