DEAR IASH MEMBERS AND ALL THE WELL WISHERS, GREETINGS TO ALL OF YOU!!!
IASH DIWALI 2017
INDIAN ASSOCIATION HANNOVER or INDISCHER VEREIN HANNOVER E.V.
is
once again proud and extremely glad to invite you all to the yearly LIGHT FESTIVAL, famously called
DIWALI FESTIVAL.
"Diwali signifies the Triumph of Light over Darkness, Peace over War, Goodness over Evil"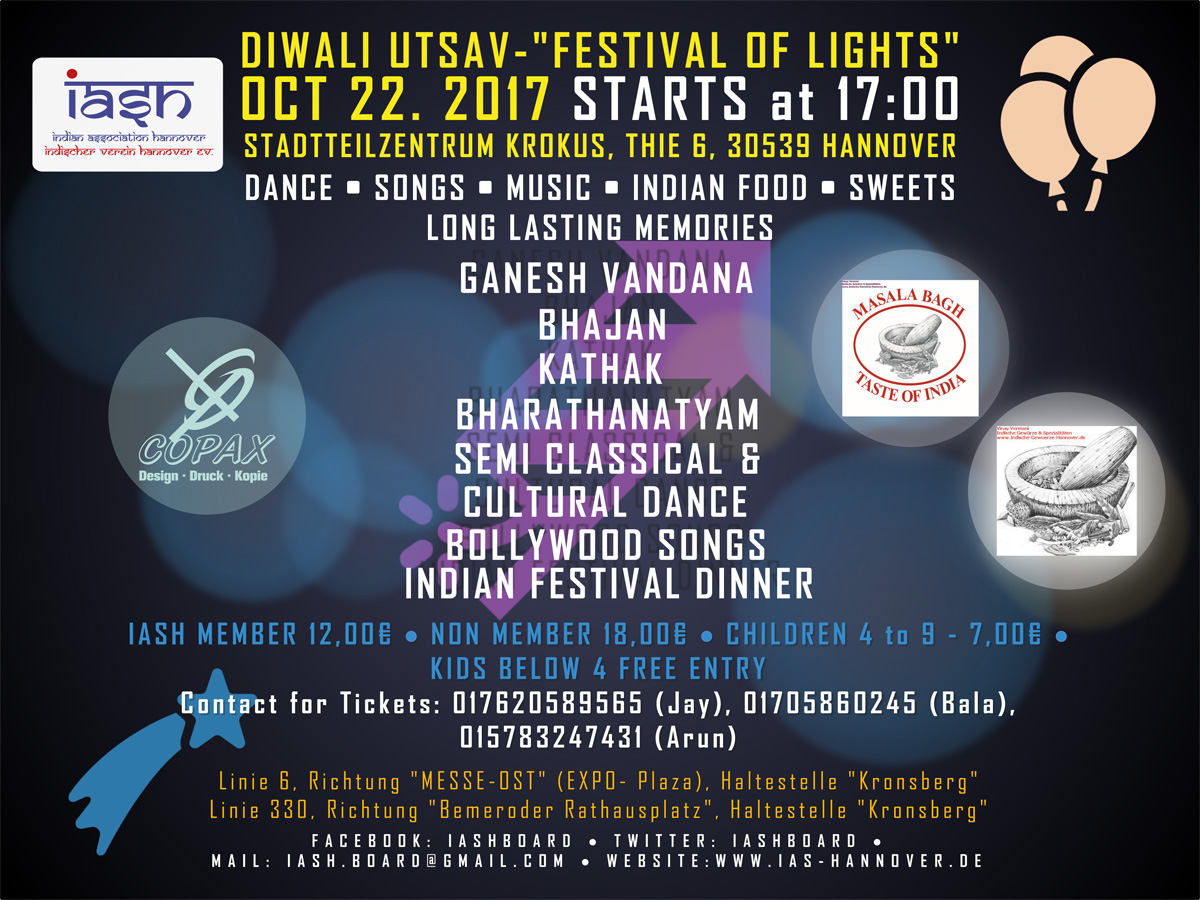 Event
 IASH DIWALI FESTIVAL 
Venue
STADTEILZENTRUM, THIE 6, KROKUS, 30539, HANNOVER
VENUE:
STADTEILZENTRUM, THIE 6, KROKUS, 30539, HANNOVER
behindertengerechtes Gebäude
Linie 6, Richtung "MESSE-OST" (EXPO- Plaza), Haltestelle "Kronsberg"
Linie 330, Richtung "Bemeroder Rathausplatz", Haltestelle "Kronsberg"
kostenlos parken auf 28 hauseigenen Parkplätzen sowie 4 Behinderten-Parkplätze über die Straße "Liethfeld" zu erreichen
Festival Includes
 KATHAK (INDIAN DANCE FORM)
GHAZAL (INDIAN MUSIC FORM)
FUSION DANCE
REGIONAL SONGS
WESTERN MUSIC
KIDS PERFORMANCE
MOUTH WATERING & AUTHENTIC INDIAN FESTIVAL DINNER 
EXTRAS
ON THE SPOT IASH MEMBERSHIP REGISTRATION KIOSK
CHARITY AND VOLUNTEERSHIP PROGRAM DETAILS
CONTACTS FOR TICKETS:    
iash.board@gmail.com                                                              
WhatsApp 017620689565 (Jay Selvadurai – President of IASH)
                   017670033553 (Arvind Tallam -Treasurer of IASH)
                  +919820397596 (Amandeep Singh Gulati -Vice President of IASH)
TICKET COST:
IASH MEMBERS: 12,00€
IASH NON-MEMBERS: 18,00€
CHILDREN BELOW 3: Free Entry
CHILDREN 4-09: 7,00€
LOOKING FORWARD TO CELEBRATE WITH YOU!!!
IASH BOARD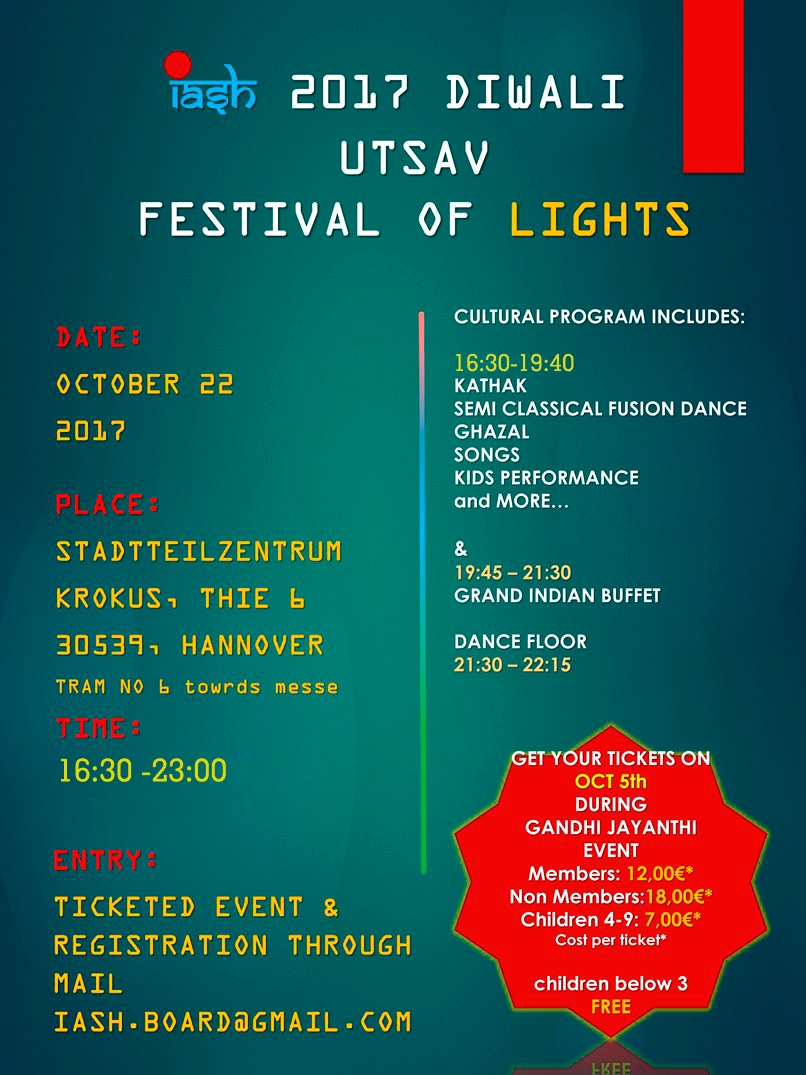 Gandhi Jayanthi Celebrations Invitation